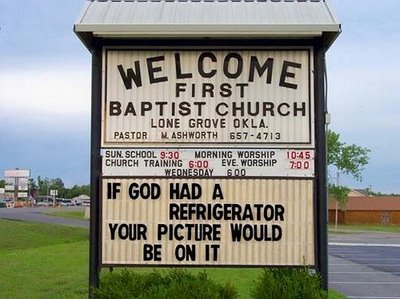 The Huffington Post reports that the Madison Avenue Baptist Church in NYC is getting some attention for the witty messages on its sign.  Sign boards like this are not really new, of course. They used to be called "Wayside Pulpits" and can be traced back to at least the early 20th century when a Massachusetts Unitarian, the Rev. Henry Saunderson,  put up a bulletin board outside his church.
In the past people could buy pre-printed wayside pulpit signs with hortatory messages and Bible verses, but with the advent of changeable plastic sign letters and the electronic message center imaginations seem to have blossomed.  The popularity of posters, buttons, and patches in the 60's and 70's probably boosted the interest in new types of church sign messages too.
Today you can buy multiple books and calendars of church signs whether you're looking for new messages to post or just reading them for fun. You can find Pinterest boards full of signs, and a Google image search on Church Sign Humor will let you see what messages have become as common as the Coexist bumper sticker.
All of which raises a question:  when the Church reaches out with a message to passersby, what are we hoping to accomplish?  Is it outreach?  Marketing?  Witness? Is it a word of encouragement? Prophesy? Admonition? Or is it a variety of hospitality–a way to demonstrate that Christians can have a sense of humor and are a friendly people?  Maybe it can be all those things.  Always a tricky business when the Church turns out to face the World.