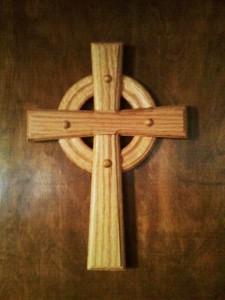 On Sunday morning a young member of our congregation ended his struggle with illness. On Sunday evening we gathered at the church to say The Litany at the Time of Death (Book of Common Prayer, p.462).
It is an extraordinary thing to speak these words on the day of someone's passing–when shock and grief are all you know, and daily life has not yet massaged the pain into something manageable.  For me, it was the ritual that allowed me to do the thing that I could not do of my own volition, but needed most to do.  As a congregation, it was a first painful step forward, hand in hand.
Depart, O Christian soul, out of this world;
In the Name of God the Father Almighty who created you;
In the Name of Jesus Christ who redeemed you;
In the Name of the Holy Spirit who sanctifies you.
May your rest be this day in peace,
and your dwelling place in the Paradise of God.