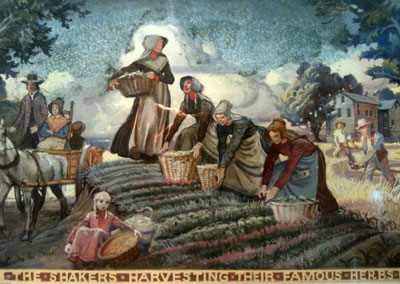 Peace unto Zion.
Peace, peace to the faithful,
And a crown of rejoicing
And a crown of rejoicing
From your Heavenly Father.
When Zion shall be cleansed
She shall flourish as a rose
I will walk in her midst
And will bless all those with a tenfold blessing
And their sorrows shall cease
For I'll cry upon her walls
Peace, sweet peace
Something about the Shakers speaks to me.  Something American, but otherworldly–sort of like pioneer Benedictines, perhaps. I first heard Kevin Siegfried's wonderful arrangements of Shaker songs performed by the Tudor Choir on the album Gentle Words.  It remains one of my all-time favorite CDs and a source of beauty, nourishment and healing for me. I especially love John Lockwood's hymn "The Burning Day" ("Redeemed Souls, your voices raise…) and the title track "Gentle Words" ("What the dew is to the flower/gentle words are to the soul").  Siegfried's arrangements are modern interpretations, not historical recreations, and they are wonderful both in their own right, and in the way they reveal the extraordinary melodies and texts of the original Shaker compositions.
As a small sample of this collection, here is "Peace" sung by the Murray State University Concert Choir.