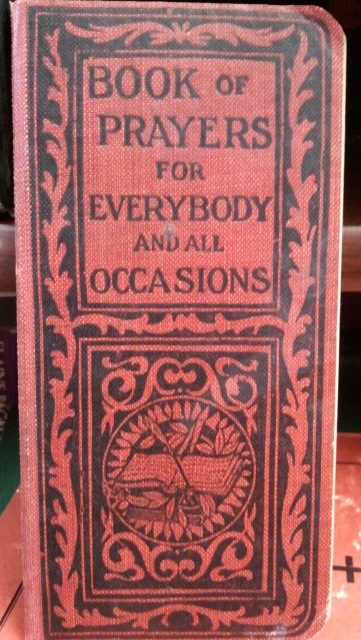 I'm drawn to old books with extravagant titles–especially those with long, descriptive sub-titles–and yesterday a small, exuberant book with a red cover caught my eye at the book store.  I see in these extended book titles the expression of the author's hopes and intentions for the work, paired with a bit salesmanship.  You can't always judge a book by its cover, but the title will reveal a lot.
I wondered what I would find inside a book with such an audacious title, and the Book of Prayers for Everybody and All Occasions did not disappoint. I opened it and read:
"A Manual of Everyday Prayers Carefully Selected From Many Sources For Those Who Desire Greater Unction and More Freedom in Praying in Public….An Invaluable Help and Suggestion in the Use of Proper Prayer LANGUAGE When Entreating the ALMIGHTY…."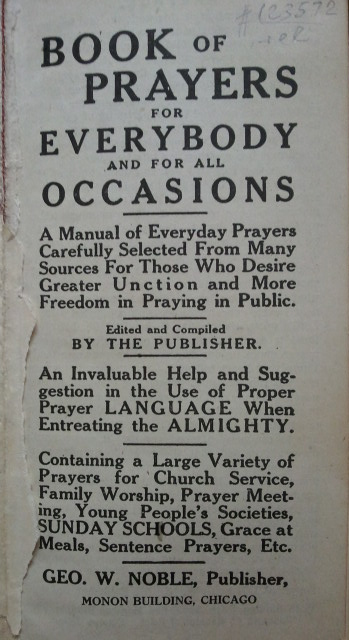 Isn't that wonderful? Who wouldn't desire greater unction and more freedom when faced with the terrifying prospect of praying in public? And in such a small book! I turned the page.
The prayers in this work were edited and compiled by the publisher, George W. Noble. In his introduction Noble explains his purpose:
In the preparation of this work the aim has been to supply a long-felt want as to helps in the important ministration of public prayer. It is not always true, as some people suppose, that if persons have divine grace in their hearts, they will pray fluently and powerfully. In religion, as in other things, "practice makes perfect;" and many an earnest Christian has not had the opportunity of exercising his gift, grace and usefulness in the public service of the Master. A Common Mistake:-  Many have supposed that because they can talk well among friends, therefore they can pray well in public. Such an idea is liable to lead him who entertains it into serious embarrassment sooner or later, and it don't mend matters to have some of the dear members tell us we need more religion—they were mistaken. What we needed was something like this Book to suggest to us kindly how we should pray.  The Remedy: – Somebody who knows the right direction in prayer should go ahead and make plain the way.  This is what this Book offers to do, for everybody and for nearly every conceivable occasion connected with the Lord's work. How to Use It:- Read it! Read it often! Read it carefully! Read it prayerfully! Let each prayer make its due impression on your own heart. Pump your heart full of it–not the words necessarily, but the thoughts. Master the thoughts, and the words generally will take care of themselves. The work is submitted to the Christian public of all Denominations, believing that its frequent use can only be conducive of good results.  It seems hardly necessary to add that the most fluent address to the Almighty in prayer without His grace in the heart would be like "sounding brass or a tinkling cymbal," and exceedingly offensive to Him. With the aid of the Holy Spirit, and rightly using this little Book, it is confidently believed that no one who names the name of Jesus should be unable to offer public prayer whenever and wherever in duty they are called upon; and may many find in this Book a more ready access to the Throne of Grace.
Copyright  1907 by G.W.NOBLE, Publisher, Chicago.
Cloth Binding. Price, 25c. Red Morocco Binding, 35c.
Postpaid on Receipt of Price.  Stamps Taken. 
By the time I finished reading the preface, I was utterly charmed and wanted to know more about this man who exhorted the Christian public to "…Let each prayer make its due impression on your own heart. Pump your heart full of it…"
But despite my best searching, I haven't discovered much.  I know that in the early 1900s, George W. Noble published a series of religious works in this small format with red binding.
Some interesting titles I've identified are:
The Sword of the Spirit Which is the Word of God; Complete Help to Personal Work, Quick Answers to Excuses and All the Great Questions of Life, Duty and Destiny.  1900
Picture Puzzles or how to Read the Bible By Symbols: Designed Especially For The Boys and Girls to Stimulate a Greater Interest in the Holy Bible, 1903
Book of 625 New Bible Stories And Illustrations Also Scripture Incidents And Anecdotes, 1905
Book of 750 Bible and Gospel Studies, 1909
Book of Points for Christians and Personal Workers: Objections and Excuses Fully Answered; Bible Doctrines Simplified.
A few breadcrumbs on the internet trail suggest that "personal work" refers to evangelism and that Noble's publications may have been associated with the Restoration Movement. The company's office was probably on Dearborn Street in Chicago, in a building designed by the well-known Chicago architect John Mills Van Osdel.
And that's all I know. In this case, the titles of his books really do tell us as much about the man as any other source. They reveal a desire to make the Bible accessible and interesting, and a plan to equip others for sharing their Christian faith. Ambitious goals, and all in easy-to-carry pocket-sized books, so you'll be ready whenever and wherever in duty you are called.