Some billboards in Texas are causing a commotion. The images, which are part of a campaign by the Christian outreach group JesusTattoo.org, show a heavily-tattooed Jesus covered with words like "Outcast," "Hated," "Addicted," and "Faithless." An accompanying YouTube video presents a parable in which Jesus appears as a tattoo artist. People come to him with tattoos naming their sins and griefs, and the tattoo artist changes them into positive messages. Only at the end of the story do we discover that the artist has accomplished this by taking the original tattoos onto his own body.
The tattooed Jesus is a modern illustration of the idea that Christ shares our suffering and takes on our sins. "Surely he has borne our griefs," we read in Isaiah, "a man of sorrows…and he bare the sin of many." While the image offends some people, it brought to my mind a much older picture: the Crucifixion panel of the Isenheim Altapiece.
Painted by Matthias Grünewald in the early 1500s, the Isenheim Altarpiece was created for the Monastery of St. Anthony which specialized in the care of plague sufferers and those with skin diseases. The body of the crucified Christ is covered with sores to show patients that Jesus understood and shared their afflictions. It's not pretty or heroic, but it's very powerful.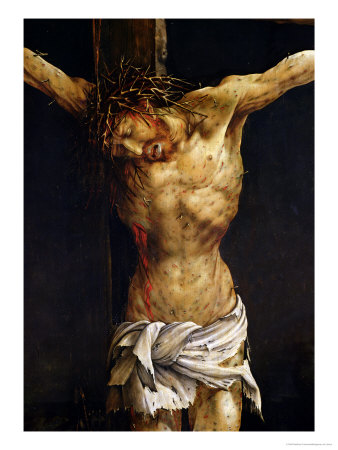 Like the billboards in Texas, Grünewald's painting emphasizes the humanity of Jesus, even as it asserts the power of his saving work. Perhaps that's one reason for the offense.
Our life in this world changes us. Suffering and sin mark us like ink and scar. Thanks be to God whose Love takes us as we are and make us new.