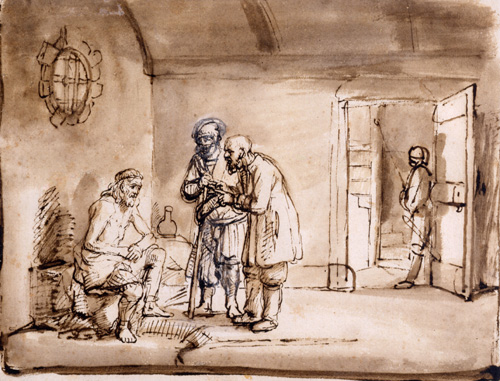 When John heard in prison what the Messiah was doing, he sent word by his disciples and said to him, "Are you the one who is to come, or are we to wait for another?"  Jesus answered them, "Go and tell John what you hear and see: the blind receive their sight, the lame walk, the lepers are cleansed, the deaf hear, the dead are raised, and the poor have good news brought to them. And blessed is anyone who takes no offense at me."
As they went away, Jesus began to speak to the crowds about John: "What did you go out into the wilderness to look at? A reed shaken by the wind?
What then did you go out to see? Someone dressed in soft robes? Look, those who wear soft robes are in royal palaces.
What then did you go out to see? A prophet? Yes, I tell you, and more than a prophet.  This is the one about whom it is written,
'See, I am sending my messenger ahead of you,
who will prepare your way before you.'
Truly I tell you, among those born of women no one has arisen greater than John the Baptist; yet the least in the kingdom of heaven is greater than he.
"What did you go out into the wilderness to look at? What then did you go out to see?"
I've had lots of thoughts this Advent, but this phrase is the one that I have pondered most. And while I haven't gotten to the bottom of it, I'm almost out of Advent, so I guess it's time to share.
There are things in life you just want to see for yourself. For one reason or another, a picture or an eye witness account is not enough, so you make the effort and you make the trek and you go out. And as you go, your journey is fueled by hopes and expectations–hopes for something wondrous, and expectations that temper your hope and keep your heart from being broken.
Expectations are born of experience. They are hard, rigid things. They'll keep you standing upright when you take a hit.
Hope, on the other hand, "is the thing with feathers." Hope will lift you up and carry you some place beyond your experience.
So I ask myself as Christmas nears, what hope will get me up and out? What hope would lead or drive me into the wilderness to see God's grace for myself? And would my expectations keep me from recognizing a prophet if I saw one? Could I accept camel hair if I was expecting a suit? An infant if I was expecting a warrior king?
Why leave the hillside and go to the stable? Why follow the star?
If Advent is a journey, what do I go out to see?