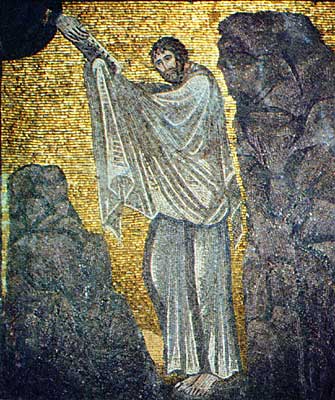 I learned something about God the other day because of Vladimir Putin. Maria Lipman of the Carnegie Moscow Center was talking about Putin's promise to grant amnesty to about 2,000 people arrested for anti-government protest, including some very high profile political prisoners. Pretty much everyone in the world realizes that this was a cynical, calculating, theatrical gesture, but Lipman pointed out that the problem with Putin's magnanimity goes much deeper than feigned emotion. The problem is that what looks like mercy on the surface is really something else entirely.
Lipman said, "Mercy is maybe complementary to justice, but mercy cannot replace justice, and this only emphasizes the fact that in Russia if you fall victim to injustice and unfair treatment, it can only be the will from above that can rescue you."
Mercy cannot replace justice.
Why not?
Most Christians I know struggle a bit with the idea of sin and obedience.  We are much more comfortable with verses like "all things are lawful" and "God is Love" than something like "the wages of sin is death."  We acknowledge human sinfulness, we confess plenty of sins ourselves, but in our heart of hearts, a lot of us have trouble coming to a comfortable place with the idea of God punishing people.
Why can't we just have God is Love? Why can't we go straight to Forgiveness without wandering around for years in the wilderness of Justice?
I think it's because mercy without justice is arbitrary. It's whim. It restores nothing. It's an exercise of power. And how can you have a loving relationship with someone whose actions are always only about power?
I suspect that justice–which is a smaller thing than God–is another one of those instances of God's restraint: a pathway to understanding, in a small way, something about God that would overwhelm us if revealed in its entirety. Justice is a cleft of the rock where we are put for our protection while God's glory passes by. Justice is about boundaries, while Love has no end.
Do justice, love mercy, walk humbly. Maybe, if we can get our heads around earthly justice, then we can tackle mercy, and perhaps someday move on to divine justice and mercy, and maybe even Love.