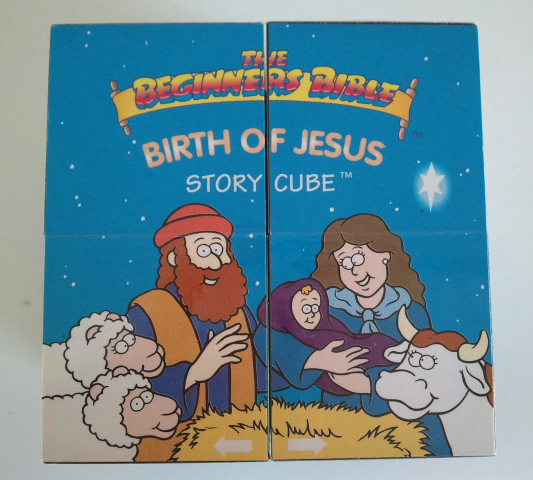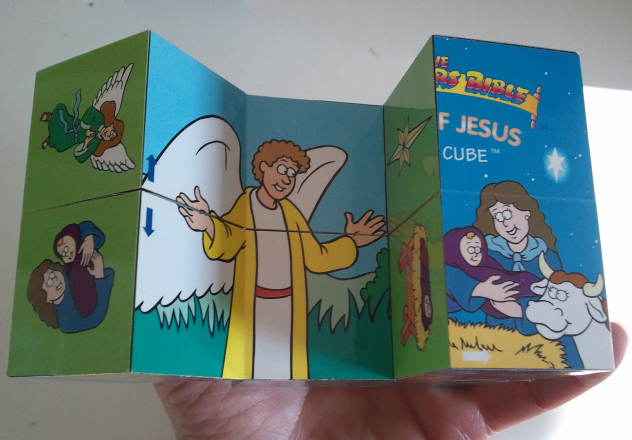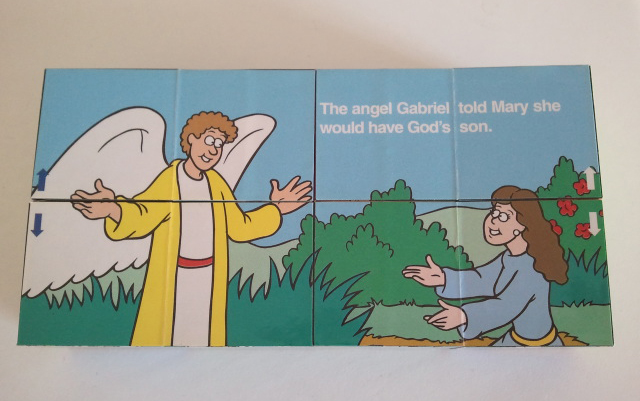 Today's Bible story illustration is not exactly a book. It's the offspring of the hugely successful Beginners Bible and an award-winning "dimensional promotional product" the Magic Cube. With such parentage you'd think the Beginner's Bible Story Cube would have taken over the world, but today they're hard to find. Perhaps the company that made them was too small. Perhaps they were simply played out of existence.
To give you a bit of historical context, the original Beginner's Bible,  written by Karyn Henley and illustrated by Dennas Davis, was in print from 1989-2004 and sold over 5 million copies–making it the best-selling Bible storybook of all time. There were many, many derivative products: books, CDs, video, toys, coloring pages, curricula, and The Beginner's Bible became a franchise. The copyright is owned by James R. Leininger, a Texas physician, businessman, and political activist.
The Magic Cube was and is a tactile marketing object, and a multi-year winner of the Fidget Factor award (though a caveat here: I can't discover who gives out that award). MagiCube websites proclaim, "Touch. Teach. Connect." "right on your customer's desktop" "deliver FUN with your advertising!"
At some point in the 1990's, Good News Gifts must have licensed the pictures and story from Leininger to make Beginner's Bible Story Cubes. Today Good News Gifts still markets a number of Story Cubes (and still priced at $6.95!), but they're no longer branded "Beginner's Bible" and the artwork has changed. (For that matter, The Beginner's Bible has changed too, and the new edition is illustrated by Kelly Pulley.)
My story cube is just one of a number of the many ways people have come up with for children to play with Bible stories. There are Noah's ark sets, plush whales with Jonah zipped inside, Almighty Heroes action figures, Nativity sets for little hands, and Godly Play activities. I find most of these pretty interesting as Christian material culture, but I have a soft spot for toy books and the unfolding cube. Maybe someday I'll make my own.