For years this painting–Albrecht Dürer's Christ Among the Doctors–has seemed to me profoundly odd. It's so crowded! All those heads and hands and books. Why on earth would the artist pack a painting that way? And truth to tell, it feels a bit uncomfortable and almost creepy. What is going on here? I couldn't figure it out, but this summer I had the opportunity to see the painting in person, and standing in front it, I felt like I finally made some progress.
I knew the subject, of course: a young Jesus is in the temple among the teachers, "and all who heard him were amazed at his understanding and his answers." (Luke 2: 41-52)  And I knew that gesture has long been an important carrier of meaning in art. "These movements of the soul are made known by movements of the body," wrote the great Renaissance humanist Leon Battista Alberti. So I at least had some context for this painting that Dürer created in five days while working in Venice.
One of the things I like to do in a museum is take pictures of paintings with my cell phone. Not just pictures of the entire painting, but close ups of the interesting bits. Details. I find it helps me think. And after looking at Dürer's painting with my camera, here's how I see it.
It's the composition that reveals the story. At the center of the painting is a wheel of hands. Jesus's young hands are making a point while the pale hands of the aged, blind teacher reach out to touch his arm and restrain him from speaking. That teacher–a doctor of the Law–is painted as a caricature, and caricature, like gesture, can be a quick way to convey a entire packet of meaning. We should understand this man's blindness as both physical and spiritual. His hands are large and cold-looking as they try to overwhelm the boy Jesus' hands.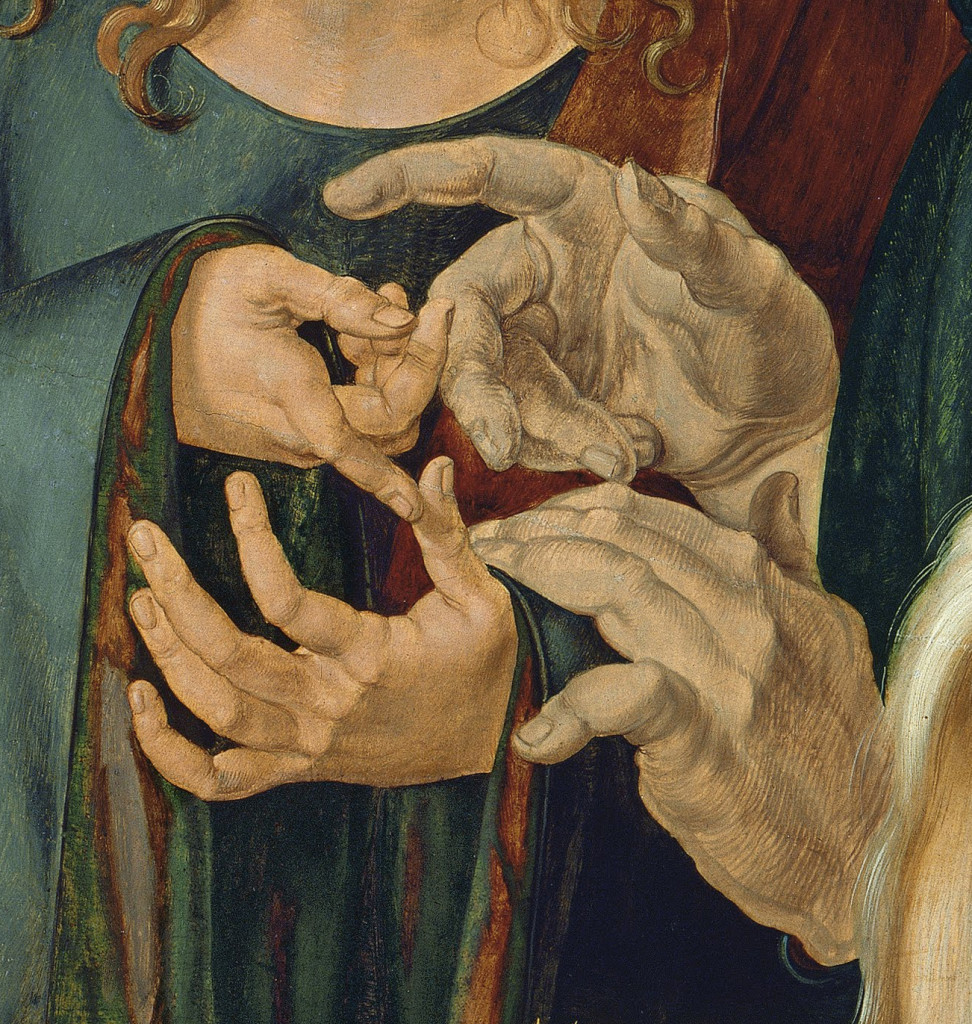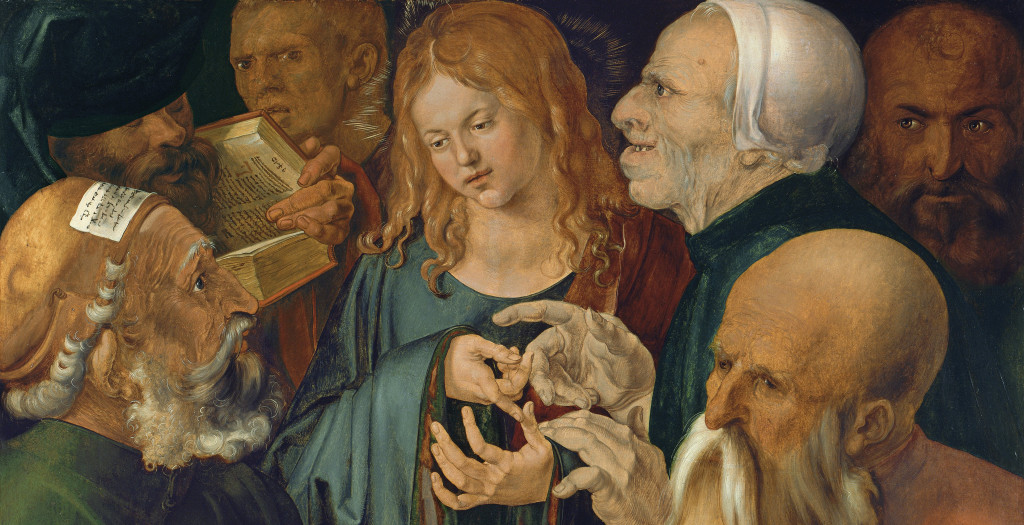 While none of the other faces are caricature, some of their expressions contribute to the viewer's feeling of discomfort or danger. On either side of Jesus are two groups of three figures that mirror each other. Two of these figures are searching in books, arguing with Jesus about points of law. Two men catch our attention with their wild eyes: one looks at Jesus with suspicion; another looks out at the viewer with an expression of alarm.
But in the midst of this swirl of confusion, mistrust, denial, and disputation, one of the teachers has stopped arguing. He looks at Jesus with what seems to me a world-weary hope, and Jesus, who has turned away from the blind doctor, meets his eyes with compassion.
While all around people are moving their hands and rustling pages, this man has closed his book, and rests his hands on top of it as he listens attentively. In this stillness, he receives understanding.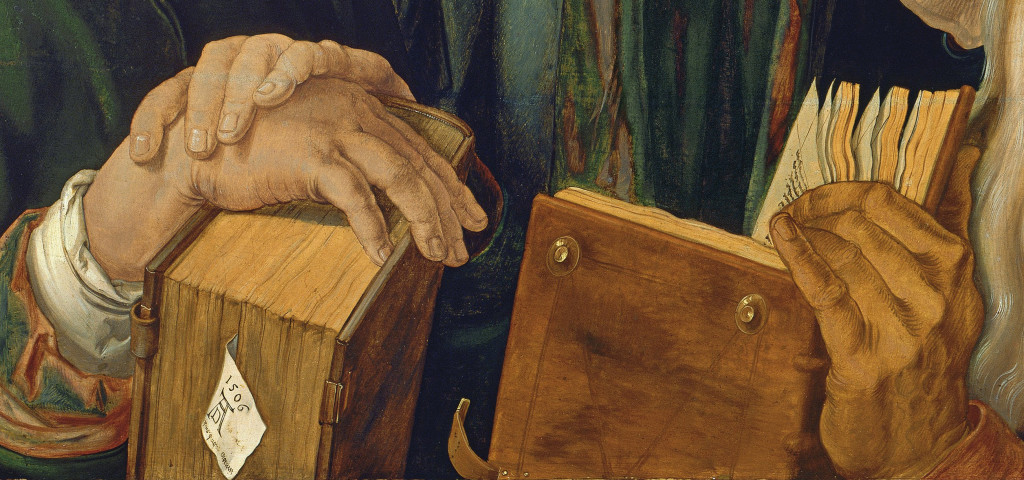 The story that began with a wheel of hands, ends with hands at rest. As he does throughout this work, Dürer first makes his point by showing us a pair of images–here two books.  And then, like a storybook's closing "The End," the artist completes the narrative and confirms its meaning his by placing his signature and date on a bit of paper slipped between the pages of the closed book.
"The movements of the body reveal the movements of the soul," says the artist. "Be still and know that I am God."