It was the color that first drew me to this vintage postcard, but soon the Church Bus carried me down a road of missionary history. The Church has always been about carrying the gospel to those who haven't yet heard, and also about using new technologies to further that mission. People really shouldn't be surprised by iPads in worship or online prayer groups. Christian history is filled with people adopting new tools for reaching out to touch hearts and imaginations.
Church bus ministry typically reaches out to children whose parents don't come to church. It's relationship-intensive, high-energy, and definitely not for the faint of heart. There are songs and games as soon as you step on the bus, then programming at the church, perhaps a meal, and then more fun on the ride home.
Some other examples of vehicular mission work can be found on vintage postcards. Meeting people where they live has taken clergy out to remote or rural areas where population is sparse and there are no established congregations. One of these missions was carried out in the summertime by the Missionary Fathers of Richmond, Virginia. I suspect the postcard was both promotional and commemorative.
Caption on reverse:
'Saint Mary of the Highways' I & II are names of two trailer chapels operated by the Catholic Diocese of Richmond. Designed by George F. Chaplain, one was built in 1938 and the second in 1948. They were dedicated by Bishop Ireton. Purchased by the donations of the people at the cost of $10,000 each, they contain church equipment, public address system and living accommodations for two priests. During the summer, programs of Scripture, music, prayer, question answering, sermons, movies and literature are presented daily. You are invited to visit the Chapel on the road, or at our home in Richmond.
In 1956, this motor chapel traveled to Petersburg, WV so that Catholics in the Tri-County area without a parish priest might receive communion.
But my favorite church on wheels postcard is this one of the Fulton Gospel Auto that traveled the east coast in the early 1920s.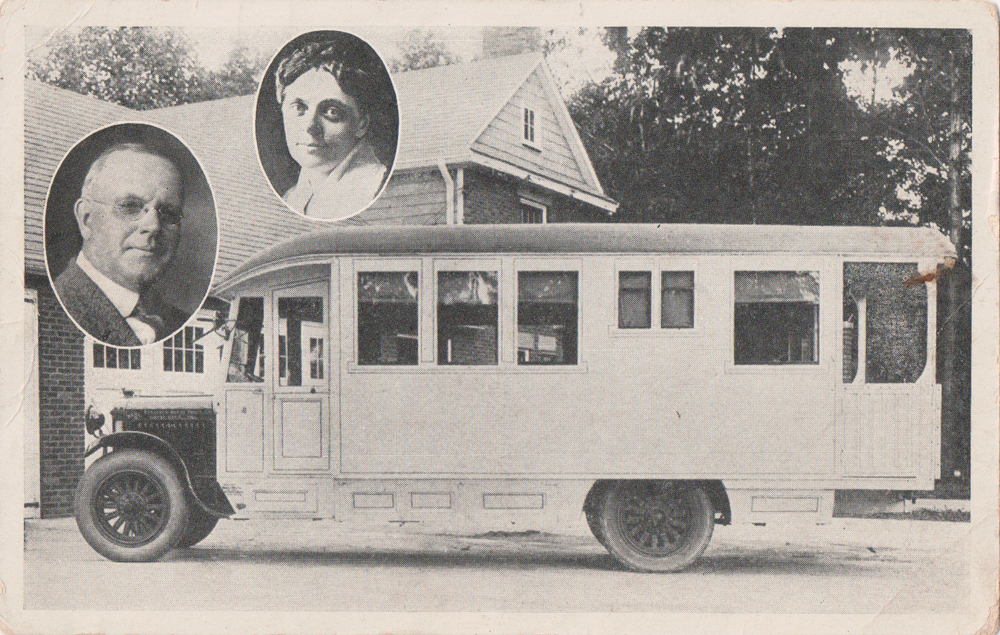 As near as I can tell, the Fulton Gospel Auto started out in politics. It was built for Dr. Edwin John Fithian, a Prohibition Party candidate for the governorship of Pennsylvania in 1918. Fithian was a medical doctor and industrialist, a member of the First Presbyterian Church in Pittsburgh, and co-founder and President of the Bessemer Gas Engine Company–the same company which manufactured the chassis of this house and church on wheels.
An article in The Evening Independent (January 5, 1921) tells us about the time this "palatial campaign chariot: rolled into St. Petersburg" with John Fulton, a Presbyterian minister, his wife, and William Bedorf "a young man who is said to be a candidate for the 'foreign field.'" Mr. Fulton and Mr. Bedorf handled the preaching, and Mrs. Fulton ("a noted singer," according to her husband) lead the musical selections during the meetings they held in the streets of St. Petersburg.
The Church on Wheels was such a marvel that Popular Mechanics (v.36, 1921, p.874) ran a story about it. That brief article noted that Rev. Fulton and his wife would stop at convenient places along popular highways and conduct services off the platform at the rear of the vehicle. The services were attended by motorists and neighborhood residents who couldn't easily get to regular churches.
You have to love this kind of enthusiasm and ingenuity. The telephone, the movie projector, amplified sound, and the automobile were all recognized early on as tools that could support evangelism and formation.
Christians can be so inventive. There's a job to do. Let's get this show on the road.